This is the general search for programs (program versions, series and episode versions). To search for a program please enter its title or name and start the search per [Enter] or click on the button Start search.
The search displayed here will find all existing versions that carry the Title somewhere within their title, original title, series title or original series title. In case only parts of the number or title is known, add a "%" sign at the unknown position of your search item (e.g. %test": finds all entries that end with "test").
In the results list, sequences and series are marked by special symbols:

Using a Filter
By activating a filter you can narrow down the result list to the filtered item: For example, you may activate the filter for Channels and enter the channel you need. Only entries with this assignment will be listed: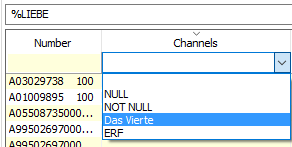 To activate the filter please make a right-mouse click on one of the column heads and select the option Use filter. A filter line which is highlighted in yellow is included. You can filter each column be either entering a term or selecting an item in the drop- down lists. Pres [Enter] to reduce the original result list to the filter term.