3.11 Dialog Scheme Options
Chose Admin > Options to define the overall default settings of your template schedule. These settings will be kept even after terminating your session.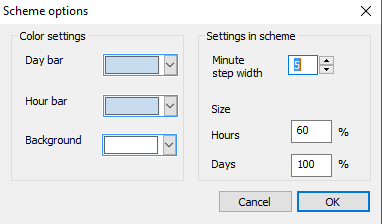 Color settings: With the three color selection buttons you can determine the default color of the day bar (horizontal axis), the hour bar (vertical axis) and of the background (grid, default is in white).
Settings in schedule: The default minute step distance within the scheduling grid is 5 minutes. If required, you can reduce or enlarge these settings by minutes. This setting will have an effect on the scheduling behavior of the slots (e. g. on moving slots): in case the minute step is 15 minutes, the slots can only be moved in these steps! If you need more detailed minute steps please select a smaller minute step distance. However, you determine the start and end times of each slot in the dialog

Edit scheme slot

(3.3 Dialog Edit Scheme Slot) independently of these settings!
You can also set the size of hours and days: Here you may enter the maximum zoom level in percent (the limit is at 400%).
Click OK to save the settings.