In the dialog Slot options you may determine the slot parameters such as the display of text, color settings, etc.: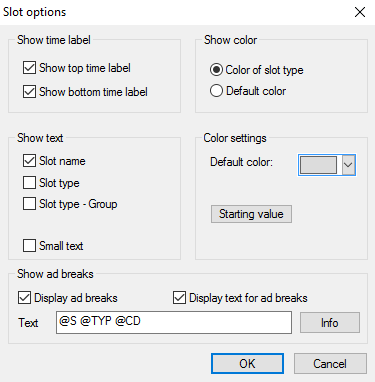 Show time label in slot: Please activate both flags

Show top time label

and

Show bottom time label

, to always display the start and end times of all slots in the slot scheduling window. If the flags are deactivated no times will be displayed.


Show text: On selecting one or more of the flags in the field Show text you may determine which text will be displayed in slots as default setting: You may choose the following flags:

Slot name: Activate this flag to display the slot name in each slot.

Slot type: Here the slot type is displayed as text -in case the slot types differ in terms of color you won't need to activate this flag.

Slot type - Group: Slots can be assigned to certain groups (editorial assignment). If required, these groups can be displayed in text form.

Small text: Activate this flag to display all text in small letters

Show color: The slots in the slot scheduling window can be displayed either in:

the color of the respective slot types - recommended setting as you will have a better overview on the different slots
in default color - all slots carry the same color

Color settings: You may define the default color of the slots here via the color button. Select the color by clicking on the desired color. A click on the field

Starting value

sets the default color back to the system default color.

Show ad breaks: If you work with commercials in the Scheme or Programmer, you have various options for displaying the ad breaks:

activate the flag

Display ad breaks

: Now all scheduled ad breaks will be displayed as small colored rectangles within the slots (white: general ad break/red: Ad break before a program / yellow: ad berak interrupting a program / green: ad break after a program).

Flag

Display text for ad breaks

: On activating this flag the ad breaks within a slot are shown in color and text, see figure below. By selecting one or more macros, you can determine the content of the text (e. g. start time, index number, code etc.). In order to see and copy a macro, click the button

Info

to open the macro dialog. Here copy the desired macro ([CTRL + C]) and paste it into the Text field ([CTRL + V]). Click

OK

to save the settings.

For a description of the macros, please click here.