3.5 Dialog Edit Ad Break Model
Ad break models can be created client specifically in both Scheme and Programmer for any channel. Here, you may define how many ad breaks will be scheduled automatically for slots and events of a certain length. The automatic distribution of ad breaks takes place in accordance with certain criteria: You need to define for a channel and validity period, how many ad breaks of a certain duration, ad break type and tariff category will be scheduled for events of a certain length depending on times and days. After creating an ad break model it can be applied for the slots in the Scheme or on a loaded slot template in the Programmer, thus allocating the ad breaks as defined.
Hinweis:
On editing ad break models and ad price schedules, please regard that the individual entries of these models need to bee coordinated - that is the assignment of ad break type and tariff category need to be consistent). Only then it is possible to activate an ad price model for all ad breaks and to allocate the ad break index numbers as desired after applying the ad break model.
To create / edit an ad break model please select the option Scheme Plan/Program schedule > Ad break Model > Edit.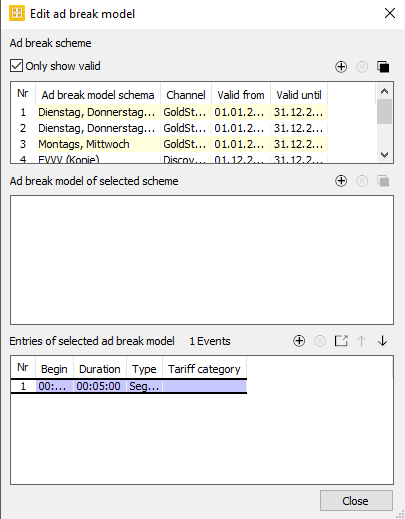 To define a new ad break model, please select the button

Add new scheme

.
→ A new line is inserted in the area

Ad break scheme

.
Enter the name of the ad break model, select the

channel

and validity period (

valid from

/

until

).
To delete an existing ad break model, select the line and click Delete scheme .
You may also copy any ad break model and modify some of the data according to your needs. This way you save time on entering similar models. Press the button
for this.
After finishing the first window you may now define the ad break model for this new schema in the second window of this dialog

Ad break model of selected scheme

. Click on the button Add new ad break model. A new line allows you to enter the first data of the ad break model. You can delete and copy the ad break model just like the scheme.

Event length begin/event length end: select the minimal and maximal length in minutes of the events, for which you wish to allocate ad breaks ( e.g. 15- 45 minutes).

Slot length begin/end: Select the length of the slot for which the ad breaks are to be created (this length is considered on applying the ad break model on slots.). In case the length is not defined, the event length is considered on applying the ad break model on slots and events in the Programmer.
Time begin / Time end: By entering a time from/until you determine that ad breaks will be scheduled only into those events that lie in this time span.

Ad breaks: the number of ad breaks will be entered automatically here as soon as the third window is finished.

Slot types: The default entry here ist "All". Choosing this field makes sense if you operate with various slot types in your program plan: By choosing a specific slot type you make sure that ad breaks will be scheduled automatically into all of these slot types.

Time begin

/

Time end

: With these fields you can determine, when which ad break type will be scheduled. The times are entered as follows: 00:00 to 12:00 and 12:00 to 00:00. NOT: 00:00 to 11:59 and 12:00 to 23:59

Length of segments: This field informs you on the ad break types (the content refers to the ad break types selected in the third window).

Week day flags: Activate the flags for which the ad break model should be applied.

Repeat this process to insert as many lines as needed for events of different lengths.

Please select the line in the second window and enter the ad break genres in the area Entries of selected ad break model: Select the button Create a new entry to insert a new line.

Enter the following fields:

Begin - (Optional field): define the start of the ad break

Duration - (Optional field): If you require a default duration, please enter it here.

Genre/Ad break type: Select an ad break type here. You may create several interruptive ad breaks but only ONE ad break before or after the FIRST event. In case you select such an ad break for a second time, the ad break will automatically be assigned to a SECOND event within the slot!

Hinweis:

By selecting a specific ad break type (before, within or after the event) you will determing how the ad breaks are distributed within an event and to which event they are allocated! For example, you may define that an ad break will be positioned within a slot into the second or event third event!.
If in the later course of scheduling only one event is scheduled into the slot, the superfluous ad break will stick to the slot.

Per drag-and-drop you can change the sequence of these entries as required.
Click

Close

. The new ad break model will be saved.
Once defined, all ad break models can be used directly for the scheduled slots (or events of your program plan). See 3.4 Dialog Apply Ad Break Model.